The Alleged Connection between Hitler and Schalke 04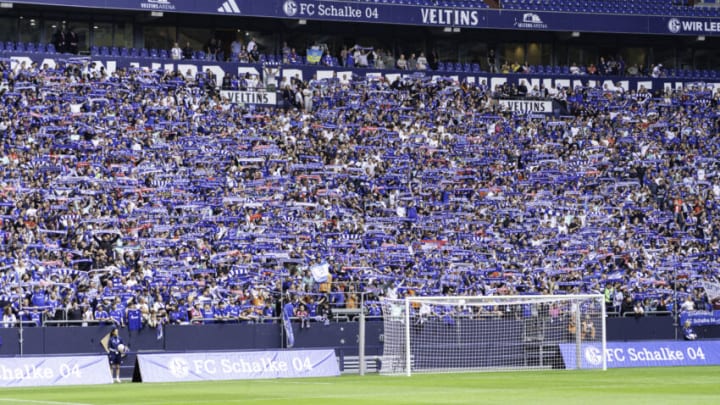 GELSENKIRCHEN, GERMANY - JULY 22: Fans of Schalke 04 during the Pre-Season Club Friendly Match between FC Schalke 04 and FC Twente at the VELTINS-Arena on July 22, 2023 in Gelsenkirchen, Germany (Photo by Jeroen Meuwsen/BSR Agency/GettyImages) /
In the complex landscape of world history, stories sometimes emerge that blur the line between verifiable facts and mythology. One of these intriguing stories is the alleged connection between Adolf Hitler and Schalke 04. Although this connection has been widely publicized, it is crucial to examine the details and nuances surrounding this controversial relationship.
During Hitler's rule in Germany, which lasted from 1933 to 1945, Schalke 04 achieved an impressive number of national soccer titles, fueling speculation that the dictator was a fervent supporter of the club. However, the evidence to support this claim is, at the very least, scarce and questionable.
First and foremost, it's important to note that Adolf Hitler was born in Austria and spent most of his adult life in other German cities, far away from Gelsenkirchen. Furthermore, there are no solid historical records that prove Hitler attended Schalke 04 matches or actively supported the club. The only reference to Hitler in the context of soccer is his presence at a match during the 1936 Olympics, which alone is not enough to establish a direct connection with Schalke 04.
LEIPZIG, GERMANY – MAY 27: Fans of FC Schalke 04 after the Bundesliga match between RB Leipzig and FC Schalke 04 at Red Bull Arena on May 27, 2023 in Leipzig, Germany. (Photo by Maja Hitij/Getty Images) /
The story of Hitler's alleged affinity for Schalke 04 gained notoriety in 2008 when a British newspaper published a list of the "50 worst celebrity football fans." However, the club vehemently denied this claim, stating that they found no solid evidence to support it. Gerd Voss, head of public relations for Schalke 04 at the time, ironically suggested that Hitler might have been a "sofa fan" and joked about the idea that Margaret Thatcher, the former British Prime Minister, could be a Liverpool supporter based on the same logic.
The alleged connection between Hitler and Schalke 04 is an intriguing example of how history can be distorted and manipulated over time. In the context of authoritarian regimes like Nazism, it is essential to separate verifiable facts from propaganda and mythology. Although the success of Schalke 04 was used as propaganda by the Nazi regime, we cannot definitively conclude that Hitler was a passionate supporter of the club.
Therefore, this story serves as an important reminder that history needs to be carefully examined, considering all available evidence, before accepting questionable claims that may distort reality. The alleged connection between Hitler and Schalke 04 will remain one of the most controversial and intriguing historical curiosities of our time, but its true nature continues to be shrouded in mystery.