Schalke 04 vs Fortuna Dusseldorf: Stay the course with Rabbi Matondo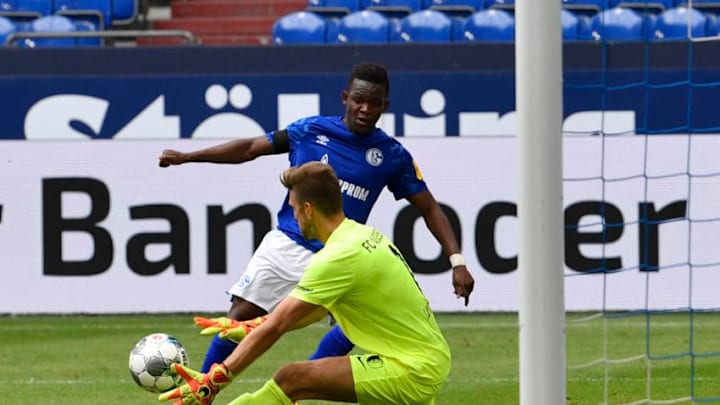 Schalke 04, Rabbi Matondo (Photo by MARTIN MEISSNER/POOL/AFP via Getty Images) /
Rabbi Matond may not have turned the tides for Schalke 04 against Augsburg, but he came closer than anyone else. Stick with him.
For many, David Wagner subbing off Rabbi Matondo in the 76th minute was a mistake that cast Schalke 04 their biggest threat to goal for the final half-hour or so of the ill-fated FC Augsburg clash. Matondo had been pairing with Michael Gregoritsch up top but faded late into the match, thus prompting the substitution.
Say what you will, you can't deny certain facts. One fact being that Rabbi Matondo came the closest to scoring a goal of anyone else wearing Royal Blue. Using that speed and dribbling ability, Matondo took the opportunity himself to get Die Knappen's first and best chance on goal, getting denied only by the left foot of Luthe.
Matondo continued to get behind the Augsburg defense for the first hour or so, but he definitely did lose some of that energy and enthusiasm the later the match went. That's why Wagner subbed him.
Schalke must continue investing faith in Rabbi Matondo
That said, in moving into a new match, David Wagner has to stay the course with the young Welshman if he's going to move forward with any kind of development or growth. Consistency is key.
Maybe that doesn't translate to another start against Fortuna Dusseldorf, especially if Ahmed Kutucu is finally in the running, but it does mean game time. Of course, there aren't exactly that many options since the attacking threats are dwindling. Many shouldn't even be considered anymore, though I'm not in the business of naming names. Yes I am—Guido Burgstaller.
Whatever Wagner is or isn't happy with in terms of Matondo's Augsburg performance, it has to be followed up on. They have to stay the course. So much is riding on Matondo and his ability to produce goals and we won't know how reliable that that ability is until he gets more game time under his belt.
Again, maybe he doesn't start because of the short rest, but he has to be given a big, whopping chance to be the goal threat we need, otherwise, we're just not moving forward at all, are we? If we're going to lose matches, we might as well lose them with youngsters getting more game time.
Enough of that pessimism, though. Schalke may have injured masses, but Matondo is a constant threat and Wagner is learning to trust him for at least a chance or two every match. That continues vs Dusseldorf.