Could Schalke really sign Zack Steffen on loan this summer?
Alexander Nübel will depart FC Schalke 04 for Bayern Munich this summer, and the Royal Blues appear to have their eyes on Zack Steffen as a replacement.
FC Schalke 04 have always been known for having strong goalkeepers. Frank Rost, Manuel Neuer, Ralf Fährmann, and Alexander Nübel are among the notable names who have defended the posts in Gelsenkirchen over the years, and there's hope from the fans that former Dynamo Dresden standout Markus Schubert can be next in line.
But what if Schalke want to take things slowly with the 21-year-old?
According to a report from BILD, via BuLiNews.com's Rune Gjerulff, Schalke want to replace Alexander Nübel, who will leave for Bayern Munich on a free transfer in the summer, with a new keeper.
While Schalke could easily have Fährmann and Schubert compete for the starting job and be fine, it appears the club has their eyes on a splashier acquisition.
A number of names have been mentioned, but the one that stands out the most is Zack Steffen.
The American goalkeeper is playing for one of the Bundesliga's worst teams in Fortuna Düsseldorf, but he's flashed serious potential this season, especially in the Hinrunde.
Steffen is a good young goalkeeper, and the 24-year-old is currently on the books at Manchester City.
Having seen what Steffen can do on loan in the Bundesliga for a smaller club in Düsseldorf, City could be willing to see what he can do at a bigger club that should be playing European football in 2020-2021.
Schalke reportedly won't be able to pay the likely 10 million euros required for Steffen to sign him permanently, and City probably wouldn't want to sell the player just yet. So a loan deal, if possible, could make sense for both sides.
The question is, how much better is Steffen than Schubert and Fährmann? That's a tricky question, because if Steffen isn't definitively better, then this whole scenario goes out the window. If City loan Steffen, they'd probably want him to play frequently, and if that doesn't end up happening at Schalke, then this loan deal ends up being a negative for both teams.
Steffen is a talented goalkeeper and would be just the latest United States star to join the Royal Blues if a deal were to happen. This is definitely a situation worth keeping an eye on, and Steffen is better than the other rumored options, such as penalty specialist Tim Krul.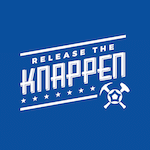 Want your voice heard? Join the Release The Knappen team!
Write for us!
My guess is that Schubert will start with Fährmann as an "insurance" backup, but keep a close eye on any further developments regarding goalkeeper rumors.