Can Schalke get another year out of Jonjoe Kenny?
FC Schalke 04 have missed Jonjoe Kenny's steady presence at the right back position due to a recent injury, but this may be a preview of the 2020-2021 season if the club can't come to an agreement with Everton.
Loan deals are a double-edged sword. On the one hand, a team can get one – or two – years of excellence from a young player, developing them into a star. On the other hand, the player usually heads back to the parent club after their development, leaving the current team with a void, even though they technically gained a player in the first place.
Such is the case with Jonjoe Kenny, who has become a fixture at the right back position for FC Schalke 04. His absence from the lineup over the past couple of games due to injury as hurt the Royal Blues, even as Timo Becker looked better than expected against lowly SC Paderborn 07 last Sunday.
Kenny has been one of the best ball-progressing fullbacks in the Bundesliga and is a pacy, hard-working defender who makes up for the fact that he's still developing tactically. Schalke are significantly better when he's in the lineup because of how much he supports the attack from the right-hand side.
However, Kenny has played so well that Everton may "price out" Schalke from signing him permanently, regardless of how much the player is enjoying his time in the Bundesliga.
According to a report from Fussball.News, via Schalke Daily, the Royal Blues hope they can get another year of Kenny on loan from Everton. The report also states that the club don't want to meet the Premier League side's asking price, which is unfortunate, but there is a budget and the club must play their finances wisely. Right back isn't always a priority position to spend loads of money on.
That said, Kenny is a good starter who will only get better, and he fits the ethos of Die Knappen beautifully. Everton could say the same about him, though, and they desperately need to hold onto as many talented players as they can. They have high ambitions after hiring Carlo Ancelotti and spending big money last summer, though they haven't come close to meeting them in 2019-2020.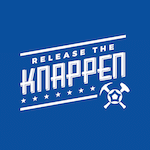 Want your voice heard? Join the Release The Knappen team!
Write for us!
Kenny is a big part of their future, but perhaps they could benefit from him shining in Gelsenkirchen for another season. It's a development for Schalke fans to watch for closely, since having two seasons of Kenny – a la Dortmund with their two seasons of Achraf Hakimi – could be huge. The 2020-2021 season could be a special one for the Royal Blues with so many young, talented players in the squad.