FC Schalke 04: Alexander Nubel set to return against Hertha
Looking to bounce back after an abysmal loss to Bayern Munich, FC Schalke 04 will have goalie Alexander Nubel back in the net against Hertha.
It's been a rough week for FC Schalke 04 after they got blanked out, humiliated, and defeated 5-0 last weekend against Bayern Munich. As always in situations like these, all one can do as a team is get back up and continue moving forward as the season progresses. At least in the case with Schalke, they're getting a familiar yet controversial face back on the starting XI.
As per Laura Brandt of Bulinews.com, goalie Alexander Nubel will be back to play as Schalke prepares for a comeback match against Hertha. In case you didn't know, Nubel has been quite the popular topic throughout the season for Die Knappen as he plans to join Bayern once this season is over.
Regardless, Nubel being back in the lineup can only help Schalke in the grand scheme of things due to the experience and stability he brings to the table. It's a smart move by head coach David Wagner to give goalie Markus Schubert some time off not only due to his injury but perhaps also because of how he got rocked last week in such a stunning loss.
BILD and other outlets also reported that it is believed Wagner will likely continue playing Nubel for the rest of the season since his days are numbered with Schalke. At the end of the day, it's important to not rush Schubert too quickly until he's physically and of course, mentally ready to resume starting duties. It's expected Schubert will be their premier goalie for the future as it's important to put him in a position to succeed for many years to come and not risk long-term injury.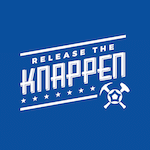 Want your voice heard? Join the Release The Knappen team!
Write for us!
Could Nubel bring a much-needed spark to Schalke? Your guess is as good as mine but regardless, something needed to change for Schalke as they do their best to get back on track. Hopefully, Nubel will help the Royal Blues have something positive worth talking about once this match is in the books. Schalke needs something good to take away from this match as they can't afford another major letdown.