FC Schalke: Optimism brimming over Michael Gregoritsch
FC Schalke wasted no time in signing Michael Gregoritsc. Seemingly as soon as the window opened, he was here. There's a reason for that.
It took FC Schalke less than a day to sign Michael Gregoritsch on loan from FC Augsburg, and it took Michael Gregoritsch just 18 minutes into his first match with the club to score his first goal. You could say that this is the perfect match, and that destiny is getting caught up with them.
And if you listen to the Austian midfielder's first interview since joining, you'd think more of the same. "After a week, it almost feels like I've been here for three years," he said. I know I'm not alone in my belief that when we first see him take the pitch in the Bundesliga, we may start to think the same thing.
Gregoritsch plays in a role that will be highly complimentary with Amine Harit's. I know I've belabored the point this season, but Harit is being asked to do a lot. He transitions play, he sparks attacks, he scores, he assists, he does everything.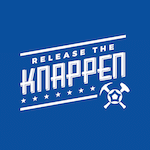 Want your voice heard? Join the Release The Knappen team!
Write for us!
If nothing else, Michael Gregoritsch is here to alleviate some of that stress. His transition play is to die for. You're just as likely to see him as the outlet for defenders as you are to find him sliding through the final ball for an assist or firing home for goal.
He's that kind of midfielder. The Aaron Ramsey type. Or, closer to home, the Suat Serdar type. The type that fights for every blade of grass and always has an idea how to change things up.
Ideally, it will allow Harit to live further forward. Let Gregoritsch deal with bringing the ball forward. And the best part is, we have Serdar to help as well. A midfield three of Serdar, Gregoritsch and Omar Mascarell is a delectable combination of defensive prowess, undying enthusiasm and enough creativity to form a backboard behind Amine Harit.
I don't want to get too ahead of myself, but if someone wanted to call Gregoritsch the key missing piece, I wouldn't oppose them. That's a really good way of looking at what he is going to bring to this club, hopefully for the long-term.
That's why optimism around this signing couldn't really be any higher. Everything is going right and it's still so early into the arrival. There's no reason to think that this wouldn't work.