FC Schalke: Jean-Clair Todibo and Ozan Kabak what dreams are made of
FC Schalke look to be inching closer to a deal for Barcelona starlet Jean-Clair Todibo. If he's the one to join Ozan Kabak then cue the euphoric dreams.
Even through the tougher times recently, FC Schalke have retained their ability to produce and attract some of the most talented young stars in all of the world. Ozan Kabak, for instance, had his pick of the world, but he ended up in Gelsenkirchen and, unsurprisingly, he has found himself an anchor of the starting XI within half a year of joining.
He wouldn't have found that anywhere else. Now, granted, it took some good fortune (well, bad fortune, but good for him). Salif Sane and Benjamin Stambouli, each a defensive stalwart in their own right, had to get hurt for the season.
Even before they did, though, David Wagner said that Kabak was ready at any moment. He couldn't have been any more right.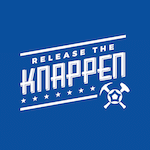 Want your voice heard? Join the Release The Knappen team!
Write for us!
In the midst of the injury turmoil, Kabak's partner has been a rotating array of players who are definitely not centerbacks. Weston McKennie and Bastian Ozcipka have filled in, but given the nature of the injuries to Stambouli and Sane and the fact that Stambouli is getting up there in age, it's best to start looking for options.
In true Schalke fashion their answer appears to be another young centerback phenom not unlike Kabak.
Jean-Clair Todibo is a 20-year-old French centerback currently on the books at Barcelona and bearing a massive amount of hype and potential. But the opportunities have been lacking this year and Todibo's link to Germany has heated up.
There were ties to Italy as well, but seeing how Kabak has fared, and knowing that he could walk right into the starting XI next to another prolific young defender like Kabak, it's hard to imagine Todibo wanting to go anywhere else, if he does indeed move.
Kabak and Todibo had been included in so many of the same "best of the next generation" lists. To have two of them in the royal blue would be a dream come true and it would set the club up for an even brighter future than they're already facing. It would even force us to consider if Sane would fall to third choice centerback. Which seems like crazy talk.
First though, the deal has to get done. So before I get too far ahead of myself, let's see how that pans out.